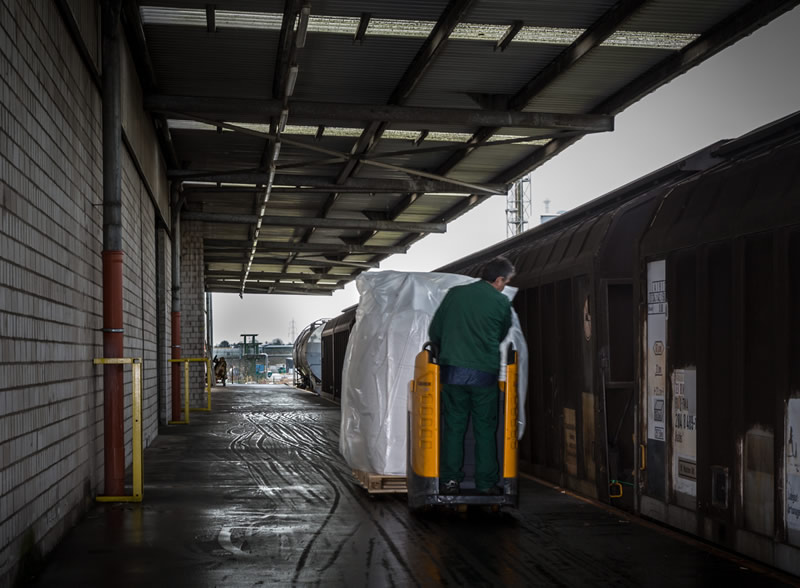 One example … delivery by rail
Road, rail, ship –

we are multi-modal
Transport only involving one mode of transport is a thing of the past. Highly flexible transhipment possibilities between the different modes of transport are needed. Whether from ship to rail or road or the other way around – the future is multi-modal.
The key to the success of multi-modal transhipment is above all the flexibility in choosing a suitable mode of transport.
We, Johs. Stelten GmbH & Co. KG, are optimally prepared for multi-modal transhipment. Our direct port access, several railroad connections as well as a 6 t gantry crane system facilitate direct access to transport by rail and ship. In Rhine Port Krefeld you will find us at Rhine kilometre mark 763.
Optimal transport connections
Our optimal transport connections to the most important motorways (A57, A44, A59, A3, A524/B288) guarantee easy truck transhipment. Multi-modal transhipment thus opens up numerous logistic possibilities so that we can always respond flexibly to our customers' wishes.
Container handling
In addition, we have found a strong partner in KCT Krefeld, completing our range of transport logistics services with a storage capacity of 1,400 TEU.
Use our numerous logistic possibilities! We look forward to your enquiry!
Learn more about truck transport here
Learn more about sea freight here
Learn more about air freight here