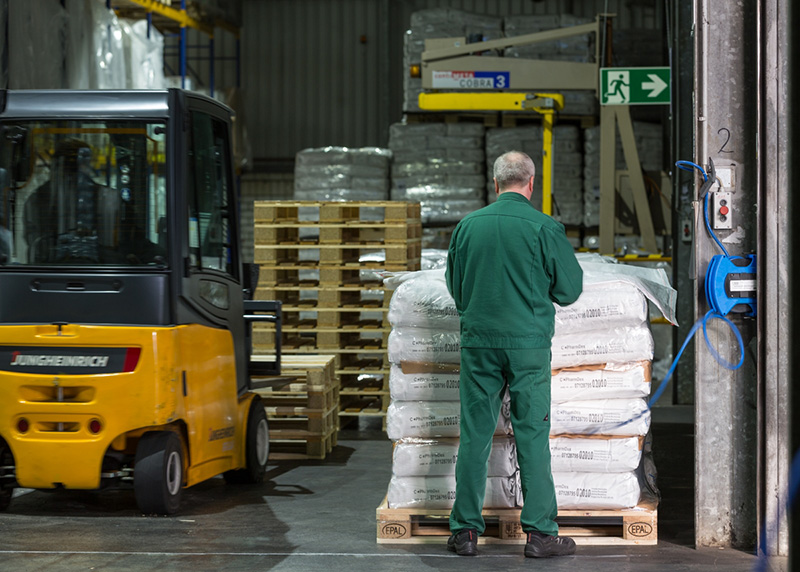 Our silo facility is impressive and an indispensable part of the Krefeld Rhine Port skyline. The venerable building does not only have an outstanding architecture but also features an impressive storage capacity of more than 15,000 tons.
In addition, we offer you generous space for storing and handling a wide variety of products. In total, we have a storage capacity of more than 38,000 sqm at three different locations in Krefeld on an overall area of over 85,000 sqm.
Direct port access, several railroad connections as well as a 6 t gantry crane system facilitate direct access to transport by rail and ship. The Germany-wide network of motorways is located in convenient proximity.
Core competence food industry
Our warehouse logistics is particularly tailored to the needs of the food industry and related sectors. Our warehouses are partly temperature-controlled; a filling plant for liquid products is also available.
It goes without saying that our long-term, trained employees also reliably carry out filling, refining, and packaging tasks in addition to the usual warehousing-related forwarding services.
Take advantage of our wide offer of value-added services in addition to our warehouse logistics – and benefit by being able to focus on your core business.
Range of warehouse logistics services
Site area more than 85,000 sqm
Over 38,000 sqm warehouse area
About 15,000 t silo capacity
Storage space accessible by ramps and flat storage with more than 12,000 rack locations, partly temperature-controlled
Handling and processing facilities like bagging and repacking plants etc. for bulk and packaged goods
Filling plant for liquid products
6 t gantry crane system
Handling warehouse
Open customs warehouse
Container loading and unloading
Additional warehouse logistics services include
Printout of shipping documents from customer-owned systems (if interface is provided)
Stock management and reconciliation between WMS and customer system (if access rights and interface are provided)
Additional load securing as well as stretching or wrapping according to customer specifications
Sample generation, sample packaging, sample shipping, or sample provision for collection
Changeover and administration of customer-owned loading equipment
Repacking individual packaging units as well as re-storage of remaining quantities
Labelling individual packaging units or entire pallets and generation of corresponding labels according to customer specifications
Unloading and palletising bulk packaging units from container deliveries
Lead-sealing outgoing sea containers
Stowing and fastening drums on loading equipment according to customer specifications
Cleaning outer packaging via compressed air or high-pressure cleaners
Covering pallets with protective covers
Leave your warehouse logistics to us! Whatever you want to store, we will make it possible, allowing you to remain flexible and your warehousing costs to stay variable!