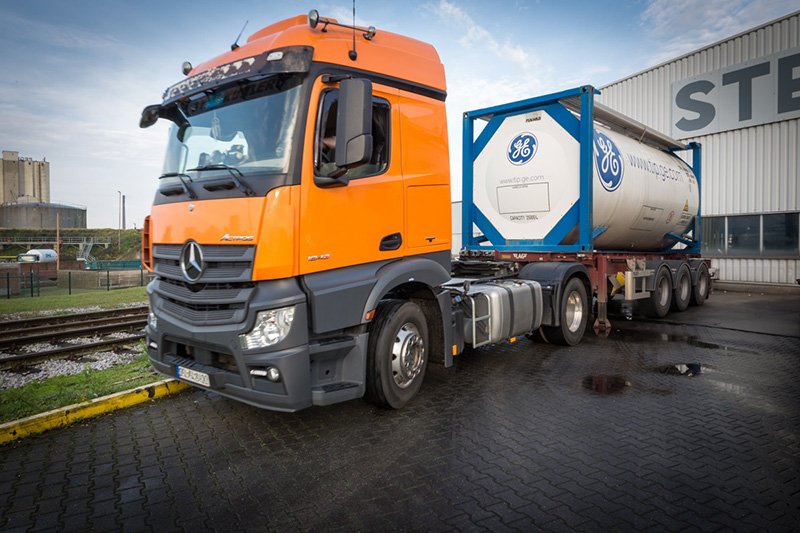 Regardless of whether you only want to ship one box to a neighbouring city or a complete truckload to St. Petersburg, our experienced and competent team is happy to assist you.
We will take care of everything related to the shipment of your goods by truck as well as of all incidental logistic services, all across Europe.
Our core competence in road transport are Europe-wide container part loads of palletised goods. Regular carriers that have proven themselves over years reliably and safely transport your goods to their destination by truck.
For complete truck loads there are hardly any limitations for individual transport solutions, no matter whether you want to transport packaged or bulk/liquid goods.
Within Europe we operate all relevant relations. Daily departures to the ARA ports complement our portfolio and ensure short transit times per truck within the supply chains.
Hazardous goods / ADR
Transporting hazardous goods by truck requires a high level of knowledge and the continued training of our employees to ensure that the numerous requirements related to hazardous goods logistics – from labelling to securing loads when transporting hazardous goods – are met.
Absolute care and attention and compliance with all legal regulations are paramount to us.
We transport the common hazardous goods classes for you, all across Europe. We have only excluded classes 1, 2, 6.2, and 7 from transport by truck.
Special and courier transport – if it's got to be quick
We provide a large number of different vehicles for special and courier trips so you can respond quickly and flexibly to any short-term orders or shortages. Directly or just in time – we solve your transport problem flexibly, quickly and reliably.
Vehicle equipment
In order to meet our customers' individual requirements, we operate a large fleet of trucks. From cars and vans for small shipments via tarpaulin-covered and box trucks (with and without temperature control) to dumping and tipping trucks as well as walking-floor trucks, a suitable vehicle is available for every one of your transport situations. On request we can staff all vehicle types with a two-driver crew to safely take your shipment to its destination as fast as possible and in due time.
Whatever you may want to transport, we will find the best solution for you. We look forward to your challenge!