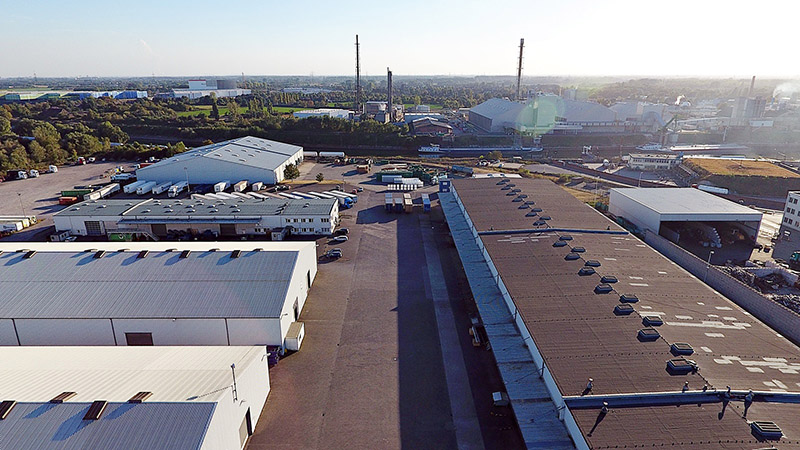 Logistics centre Bataverstrasse
Over many decades, Johs. Stelten GmbH & Co. KG has established itself as a provider of high-quality logistics and forwarding services, in particular for the food industry. From warehousing to an all-inclusive logistics package we offer you convincing and market-driven solutions meeting your individual requirements 100%.
Our company, Johs. Stelten GmbH & Co. KG (formerly Johs. Stelten KG) was founded in 1898 and back then mainly engaged in storing, trading and handling grain, flour and animal feed.
Our company's core competences
Our high standards and careful future-oriented planning have led to a flourishing forwarding and logistics company evolving from the former trading company, successfully providing any kind of transport service, whether it is by water, road, air or rail.
We complement these services by continuously expanding the company's activities, in particular in warehousing, meaning that today a storage capacity of more than 35,000 sqm in different qualities at three sites in Krefeld as well as about 15,000 t silo capacity are available. In these facilities, we offer filling, refining and packaging services in addition to the usual forwarding services. Our warehouse logistics portfolio has gradually been optimised for the requirements of the food industry and related sectors.
Quality and qualification within the company
To meet the carriers' high requirements, the company employs a workforce which has acquired excellent qualifications through years of membership in the company and continuous professional development, ensuring that our customers' transport, storage, logistics and other orders are executed quickly and smoothly.
In order to continue to meet the varied requirements of the market, to secure our company's continued existence, and to ensure a positive customer experience by providing punctual, faultless service with optimised prices and performance, our company cultivates and maintains an integrated management system according to DIN EN ISO 9001:2008 and 14001:2004.
On the following pages you can learn more about our service offer.