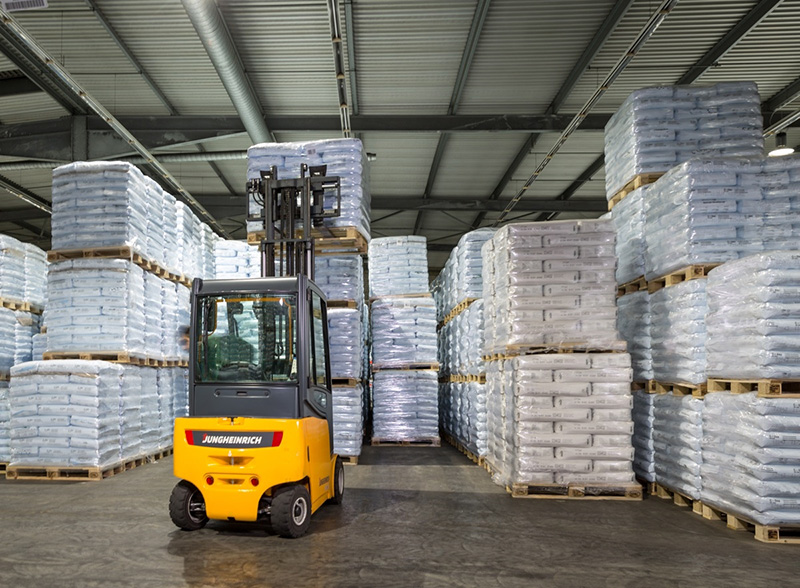 Competent partner of the food industry 
We have a long tradition of handling food responsibly. Founded as a family business in 1898, Johs. Stelten GmbH & Co. KG already engaged in storing, trading and handling sensitive products, mainly grain, flour and animal feed, more than 100 years ago.
Since these beginnings we have continuously expanded our know-how in food logistics and developed special competences in this field.
Reference customers for food logistics include Cargill Deutschland GmbH and Cargill Texturizing Solutions GmbH & Co. KG.
Food storage
Our warehouse logistics specialised on food logistics is geared to the requirements of the food industry and related sectors. Our warehouses are partly temperature-controlled; a filling plant for liquid products is also available.
The venerable building of our silo facility does not only feature an impressive storage capacity of more than 15,000 tons but is an indispensable part of the Krefeld Rhine Port skyline due to its unique architecture.
In total, we have a storage capacity of more than 38,000 sqm at three different locations in Krefeld on an overall area of over 85,000 sqm.
Tri-modal handling
Direct port access, several railroad connections as well as a 6 t gantry crane system facilitate direct access to transport by rail and ship. The Germany-wide network of motorways is located in convenient proximity. Our tri-modal handling options provide versatile logistic possibilities so that we are always able to respond flexibly to our customers' wishes. In particular, these transport logistics options are available to the food industry.
Our Service for your foodstuffs
It goes without saying that our long-term, trained employees also reliably carry out filling, refining, and packaging tasks in addition to the usual warehousing-related forwarding services.
Being one of our main areas of expertise, food logistics is, of course, a fully integrated part in the certified quality and environmental management systems according to DIN EN ISO 9001:2008 and 14001:2004. Various HACCP concepts as well as adequate pest control adapted to our customers' specific needs complete our range of quality assurance measures.
Take advantage of our wide offer of value-added services in addition to our food logistics – and benefit by being able to focus on your core business.